BFSA Thanksgiving Food Drive
Now through November 20, 2009
Noon - 1:00 PM
This year, the Black Faculty and Staff Association (BFSA) Executive Body has agreed to sponsor a food drive. You will find below a link to a document seeking your assistance at various locations. As we approach the holidays, there are families in need of your support. Please take a moment to read the flier and as you are able to, make a donation. Your contributions will serve as beacons of hope during a time of need.

We have also decided, with input from you, to make available to five (5) families this year, a traditional turkey dinner. This generous idea being brought to you by Zina Harris of the Business School. Below is a link to download the Nomination Form inviting you to bring to the Board's attention 1 of 5 families to be honored this year. Please send your nominations in by November 13.

We do hope that you will take a few moments to read the materials below and make a donation. Additionally, if there is a family that you are aware of deserving of a turkey dinner, please let us know!

Click here to download the BFSA Thanksgiving Food Drive Flier
Click here to download the BFSA Thanksgiving Food Drive Nomination Form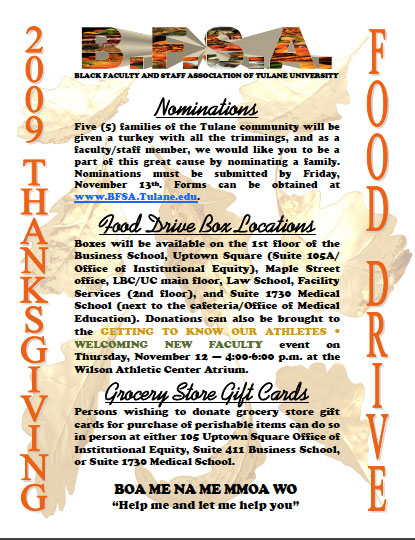 BFSA General Body Meeting
Tuesday, November 10, 2009
Noon - 1:00 PM
8th Floor, Medical School Department of Surgery Library, Room 8563
1430 Tulane Ave
Getting to Know Our Athletes • Welcoming New Faculty
4:00 - 6:00 pm
Wilson Athletic Center Atrium
Thursday, November 12, 2009
Please RSVP to bfsa@tulane.edu
OMA /OISS Annual Thanksgiving Potluck Dinner
Tuesday, November 24, 2009
5:30 – 8:00 pm
Qatar Ballroom of the LBC
BFSA General Body Meeting
Thursday, December 3, 2009
5:00 PM - 6:00 PM
Lavin Bernick Center 210-Keever Conference Room
Holiday Shopping Trip to Foley, Alabama
Saturday, December 5, 2009
Particulars:

Saturday, December 5, 2009, Bus will leave for 8 a.m. and return around 7pm. The ride is about 3 hours.

The cost is $30.00 and will include refreshments, entertainment and fun!

Departure and return locations are: Uptown Square at 200 Broadway Street in Uptown New Orleans and also from Lowe's on Read Blvd. in New Orleans East.

A percentage of the proceeds will be donated to Foster Children Organization for the Holidays!

Please feel free to pass along to others and invite others to come along with you. http://www.tangeroutlet.com/foley

Please RSVP as soon as possible to Zina Eugene at zina@tulane.edu or 504.865.5406.

Download the flyer for the Holiday Shopping Trip.